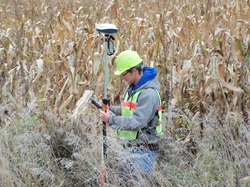 Welcome to Norwest Surveying Services, Inc.
Specializing in.....

Land Partitions, Topographic Surveys, Corridor Route Surveys
Easement Surveys, Section Corner Recovery And Monumentation
Road Layout Surveys, Geodetic Control Surveys,Topographic Mapping
Subdivision Design And Platting, Plats Of Highway,Plats Of Topography
Plats Of Vacation, Area Computations,Base Map Preparation And Reproduction Digitization
Digital Terrain Modeling, Plats Of Annexation and more....
---
SERVING THE FOLLOWING COUNTIES:
Land Surveying is an essential requirement in the planning and execution of every form of land development. It's most familiar modern uses are in the fields of transportation, building and site development, communications, mapping, and the analyzing and creation of descriptions of boundaries for land ownership.

The modern Professional Land Surveyor utilizes traditional tools and leading edge, state of the art computer, laser, sonar and GPS technology to measure, map, and define those areas on, above, and below the surface of the earth. The information collected, collated, and analyzed by the Professional Land Surveyor is essential in the creation and maintenance of the modern Geographic Information and Land Information Systems (GIS/LIS) used by all branches of Government, planners and design professionals.

An experienced, accomplished, and qualified Professional Land Surveyor should be your lead professional on any development project. He/she is the common element coordinating the Architect, Engineer, Landscape Designer and the General Construction Contractor, providing technical data and information critical to each of the other Professional's part in the process. In addition, He/she is the one person who can work with local Government(s) to assist in compliance with Zoning and other ordinance issues. The Professional Land Surveyor is well versed in each of the disciplines and can anticipate design conflicts and facilitate the smooth, and on budget, completion of your project.

No matter what reason you have for retaining the services of a Professional Land Surveyor, you should use the same criteria that you would use to select your Doctor, Lawyer or any other professional. Your Professional Land Surveyor should be a person in which you can place your complete trust. The staff of Norwest Surveying Services, Inc. appreciates the opportunity to offer all of our education, training and experience to justify that trust and we look forward to working with you on your next project.